Tweet
http://www.hollywoodfringe.org/4579
(hit ctrl+c to copy)
AN EVENING WITH JOHN WILKES BOOTH
solo performance
· loyd j. schwartz · Ages 12+ · family friendly · world premiere · one person show · United States of America
Buy Tickets
Add to Favorites
DAVID MACDOWELL BLUE
· June 19, 2017
At heart, the thing I most desired to see--a sense of genuine empathy with the title character--never materialized. Which is perhaps totally personal to be fair. Nor did he come across as particularly interesting despite quiet, firm competence (coming from me, that is NOT a put down) on the part of everyone as far as I could see. Methinks the subject matter offered too much of a challenge for what I looked for....
full review
TONY FRANKEL
stage and cinema
· June 21, 2017
Less a play than an examination of Lincoln's assassination by the man who killed him. Unfortunately, facts and figures fly at us but little sticks, and Stephen Spiegel (as Booth) needs better direction than that from script writer Lloyd Schwartz. Spiegel travels a lot while spewing out over 80 minutes of dialogue; I wish he would just plant himself more often (I think he's working too hard). The play is simply too much info with little emotional connection....
full review
JAMES BABBIN
certified reviewer
· June 18, 2017
If you are into history, this is the show for you. A very entertaining, well-done and fast-paced show about John Wilkes Booth, and how he came to be. It is full of historical trivia while being an excellent character study. Stephen Speigle's performance is incredible, Lloyd Schwartz's direction keeps it moving a very fast clip and Clinton Case does a great job combining history and drama, making it all very accessible. Go....
full review
CAILIN HARRISON
certified reviewer
· June 04, 2017
This is a must see for all not just at the fringe but far beyond the festivals end....
full review
PAUL ELLIOTT
certified reviewer
· June 05, 2017
This is a really must see show... One of the best of the fringe...a really talented actor disappearing so completely within a role that even without makeup, you, as an audience, know you're in the presence of the truth of John Wilkes Booth, ...
full review
DARRELL VETTER
· June 07, 2017
The energy and charismatic nature of Stephen Spiegel , his ability to perform and play off the audience while telling the assassins side of our beloved president Lincoln's murder , was unbelievable ! At one point he looked at me and says "you sir..." and it was a question in the show, but I was caught up in it all and almost answered ! That's what you get here and to me that's very very impressive . I tip my hat to all the people involved with my respect to the writers for an awesome Evening with John Wilkes Booth !...
full review
ANONYMOUS
· June 06, 2017
STEVE WAVERLY
certified reviewer
· June 07, 2017
This is one show that you don't want to miss. It's an amazing ride. Kudos to all involved! ...
full review
ANONYMOUS
· June 11, 2017
A play about the assassination of an American president? This production is treading on some very provocative waters......
full review
ADVERTISEMENTS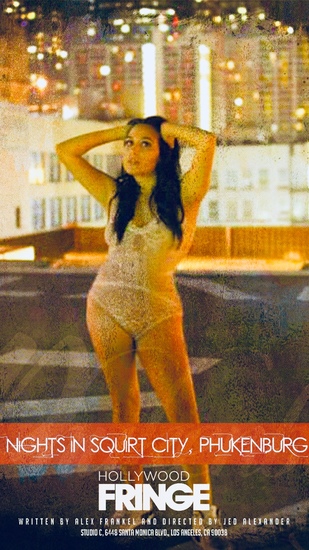 Is this Chat Heaven ... or chat hell? A Russian girl alone in a chat room full of losers and lonelies. A typical night in Chat Heaven until things start to go terribly wrong.
Adapted from Charlotte Perkins Gilman's famous 1892 feminist short story of the same name, it chronicles a young woman's descent into madness. A blend of live-action and animation.
SIGN UP FOR THE FRINGE NEWSLETTER
BEHIND THE SCENES
Copyright © 2018 Hollywood Fringe Festival
All Rights Reserved.