Tweet
http://hff18.org/4877
(hit ctrl+c to copy)
Happy Hour
comedy
· happy hour the play · Ages 13+ · 55 mins · United States of America
Buy Tickets
Add to Favorites
KIEL SERVIDEO
certified reviewer
· June 12, 2018
A masterclass in small talk and what it reveals about us all, perfectly acted by a superb blend of characters. It had me laughing one moment and nodding in agreement the next. Would love to see what this creative team does next! ...
full review
ROBBIE GOLDSTEIN
· June 18, 2018
rjgforu@gmail.com..The writer is a clone of John McClain of Die Hard fame. Thank God talent as young can put it down on paper and make it accessible to everyone. Like McClain she explodes her actors on stage with anger outrage goosed along with fuel from a bartender who is just there to provide service and revenue. But is touched by a middle age women suffering in loneliness of knowing her days are riddled with the same. Boys and Girls it is the writing of this piece you walk away shaking your head How? I am so appreciative of the invite. ...
full review
ANONYMOUS
certified reviewer
· June 18, 2018
Really enjoyed the show. Interesting plot line. Good acting and directing. ...
full review
MICHAEL ORLANDI
certified reviewer
· June 17, 2018
Tracey and Zach have written a wonderful slice-of-life play. I was moved by each character's POV and their unique and sincere interactions with one another. The conversations were thought-provoking and relevant. It's a play about simple human connection, how we crave and sabotage it in our day-to-day lives. Loved it!...
full review
KYMBERLI MCKANNA
certified reviewer
· June 15, 2018
It was a fun night at the theatre. Delightful slice of life with an endearing cast. Susan Kohler stole the whole show with her quirky and understated performance. Ken Breese was a delight as the frustrated yet very funny husband of the extremely unlikable wife (the character, not the actress - the beautiful Danielle Motley). Jacob Lyle was super charming as the best man and I kept waiting for him to make a move on the older woman - their chemistry was electric! Alison Sieke as the waitress was a great support to the cast. ...
full review
ANONYMOUS
certified reviewer
· June 18, 2018
I really enjoyed this show. A nice little character study of 5 people encountering each other in a bar/restaurant. Larkspur is a gem whose facets are nicely played up by the other four. A bit of a twist in the ending left me chuckling....
full review
ANONYMOUS
· June 12, 2018
Really funny and thoughtful play! Excellent writing and strong performances throughout the show....
full review
ADVERTISEMENTS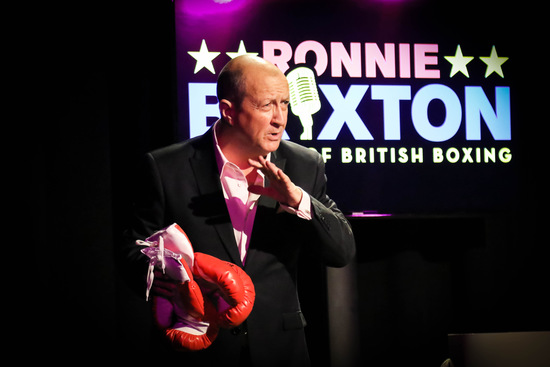 LAST CHANCE TO SEE RONNIE LIVE! RESERVE $10 TICKETS & REDEEM A COMPLIMENTARY T-SHIRT or TANK TOP AFTER THE SHOW! __"David.Shaughnessy is amazing! He brought us to tears with a sense of hope."-Debbie Hall, BROADWAYWORLD __100% SWEET ON BETTER-LEMONS!
Murray Meyer's - one man show. A single father, a mob boss and a pot selling nun. Hudson Guild 6539 Santa Monica Bl June 15, 16, 17, 22, 24 http://hff18.org/5157
SIGN UP FOR THE FRINGE NEWSLETTER
BEHIND THE SCENES
Copyright © 2018 Hollywood Fringe Festival
All Rights Reserved.