House of Tales
Buy Tickets
Add to Favorites
ANONYMOUS
certified reviewer
· June 03, 2018
ANONYMOUS
· June 04, 2018
It was a great show! Very inspring and fun to watch! Not something i expected before....
full review
MINI ZHOU
certified reviewer
· June 04, 2018
It is definitely trying something new. Not sure if this is still an exploration or a finished product ...
full review
ANONYMOUS
· June 04, 2018
It was a good show to watch, especially it included some new style and vibe which is not a traditional play. ...
full review
ANONYMOUS
certified reviewer
· June 05, 2018
Interesting idea. Impressive work done by actors....
full review
ZOE WNAG
certified reviewer
· June 06, 2018
A daring masterstroke that creatively wields its narrative dexterity to illuminate the magic of storytelling itself. It exquisitely translates the almost imperceptible cultural consciousness across Eastern and Western, ancient and modern sensitivities. With its potential in an infinity of plausible connotations, the overall play in the Dorie Theatre's cubic space could be interpreted as a representation of an artist's mind, in which sparks of inspirations poignantly struggle to freely express themselves against limits set by an anonymous tyrant. ...
full review
ANONYMOUS
· June 08, 2018
Went to see the show last weekend. Very interesting Chinese tale story coupled with passionate performance. Fun to watch...
full review
ANONYMOUS
· June 08, 2018
A contemporary interpretation of the ghosts stories that Pu Songling - a fantasy writer from Ancient China wrote, and his own fate as a scholar who was not favored in his time. ...
full review
ADVERTISEMENTS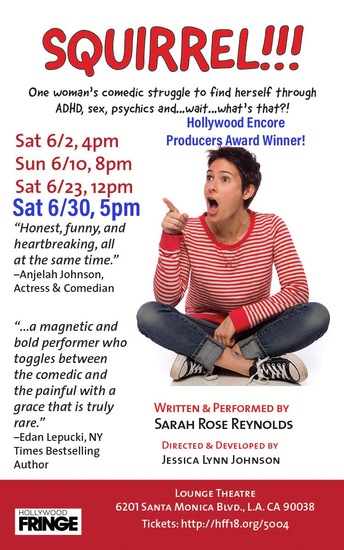 WINNER of the Hollywood Encore Producers Award! Only performing 1 encore show! Get your tickets now for the 6/30, 5pm show at the Lounge Theatre! hff18.org/5004
Want Valley Theatregoers at your show? NoHoArtsDistrict.com (1 million visitors yearly) - #1 source for theatre in the Valley now offering exclusively to Fringe productions Review, frontpage AD and social media to 26,000 followers for $165.
SIGN UP FOR THE FRINGE NEWSLETTER
BEHIND THE SCENES
Copyright © 2018 Hollywood Fringe Festival
All Rights Reserved.