Tweet
http://hff18.org/5078
(hit ctrl+c to copy)
Three Blind Dates: See How They Run
ensemble theatre
· 11 west productions · Ages 16+ · 80 mins · United States of America
Buy Tickets
Add to Favorites
DAVID COLWELL
certified reviewer
· June 17, 2018
The first two of the three plays in this one-act trilogy, "A Serious Person" and "Tatyana and the Cable Man," are brilliantly written and performed. The productions are fun and laugh filled. Very enjoyable....
full review
DREW FENTON
certified reviewer
· June 21, 2018
The first 2 acts were funny and entertaining...In the 3rd act a large knife was pulled out and there was discussion of murdering the waiter. This was over-the-top violence for me, and should have been disclosed as a violent performance. I am not sure if the waiter was murdered, because I left the theater....
full review
MIKE OWEN
· June 19, 2018
I was impressed and had a great time during the first and second act. The two actors in act one had amazing chemistry. The girl was so truthful into her craziness while the guy was the mirror of what I was feeling seating in the audience. Actress in act two was good and very charming. On the other hand the actors on act three had no chemistry what so ever. I could barely hear what the girl was saying. She kept hiding her face. Waiter was funny. ...
full review
MASON BROUCEK
· June 20, 2018
Very fun show! Act 3 seemed a bit too long and confusing. I would like to see more of the act one couple and the whole evolution deal. ...
full review
ANONYMOUS
· June 02, 2018
Cut it in half and then some. Way too long. A stereotypical look at singles looking for love. ...
full review
MARY PALMER
· June 06, 2018
I went to see Three Blind Dates last weekend and loved it! It is a fun and bittersweet portrait of relationships today. The characters are brilliant and quirky and beautifully portrayed by wonderful actors. I highly recommend it....
full review
ADVERTISEMENTS
*FINAL PERFORMANCE ON JUNE 23* RESERVE $10 TICKETS NOW & REDEEM YOUR COMPLIMENTARY T-SHIRT or TANK TOP AFTER THE SHOW! ___100%SWEET ON BETTER-LEMONS! ___"STUNNINGLY GOOD" ___"CHARISMATIC, ECCENTRIC & EMPATHETIC PERFORMANCE"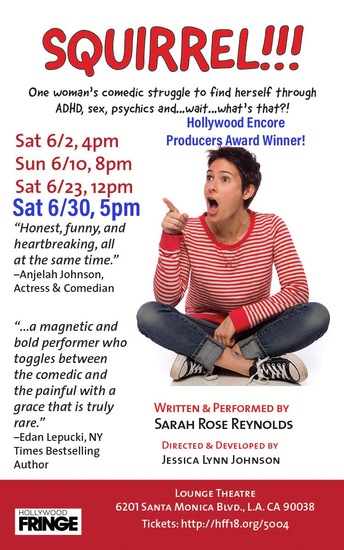 WINNER of the Hollywood Encore Producers Award! Only performing 1 encore show! Get your tickets now for the 6/30, 5pm show at the Lounge Theatre! hff18.org/5004
SIGN UP FOR THE FRINGE NEWSLETTER
BEHIND THE SCENES
Copyright © 2018 Hollywood Fringe Festival
All Rights Reserved.