Tweet
http://hff18.org/5163
(hit ctrl+c to copy)
MACKERS!
comedy
· mark marcus mark productions · Ages 16+ · flashing lights · world premiere · 90 mins · United States of America
Buy Tickets
Add to Favorites
ANONYMOUS
certified reviewer
· June 08, 2018
Funniest show I've seen at Fringe! I laughed till I cried and felt genuinely moved during the dramatic scenes (before laughing riotously at the next comedic bit)....
full review
ANONYMOUS
certified reviewer
· June 08, 2018
Take some of Macbeth, throw in a healthy dose of Monty Python, a dash of Family Guy cutaways, and an abundance of joy, and you will have the delightful and wonderfully theatrical Mackers. This show breathes new life into the play from beginning to end....
full review
LAURA JAMES
certified reviewer
· June 09, 2018
A rollicking good time! Super fun. Absurd. Hilarious. Do yourself a favor and go see this show!...
full review
MICHAEL STURGIS
certified reviewer
· June 08, 2018
Irreverent and shamelessly crude, but also intentional and in Shakespeare's spirit. ...
full review
JOHN BRAHAN
certified reviewer
· June 08, 2018
High energy from start to finish. The actors effortlessly moved from scene to scene with speed and intention. I never felt that I was just sitting in the seats waiting for them to get the set together. Hilarious. At the same time, the actors honored the tragic and intense moments. The message of the text was communicated incredibly well, and I have never found a Shakespeare play more easy to follow. I never asked, "What does that mean?" They played their own instruments at moments in the show and added a unique and organic element of sound to the performance. Loved the show. Great job overall. Fans of classical theatre should check this out. ...
full review
ERNEST KEARNEY
thetvolution.com
· June 22, 2018
In a fashion, they have returned the bard and his play to that original environment where it would have, first, been staged; an environment where actors were constantly padding their roles and in which the comic characters were always clowning for the audience. A solid Gold medal!...
full review
DAN SCHULTZ
· June 08, 2018
This is one of the best productions of MacBeth I have ever seen. Very funny from start to finish. The thrust stage allows you to see a different show depending on where you sit. Would go see again! Engaging, hilarious, and yet still intense enough to be MacBeth....
full review
ANONYMOUS
certified reviewer
· June 09, 2018
Macbeth....not the tragedy but the comedy. Ghosts, witches, murder, surly children, beautiful queen, madness, and cross dressing. Its Shakespeare for this age....
full review
ADVERTISEMENTS
Fifth smash year! Too many shows and not enough time? Our experienced, independent judges see tons of productions across every genre, then we choose, and present live highlights from, five of the best shows at each Pick of the Fringe performance.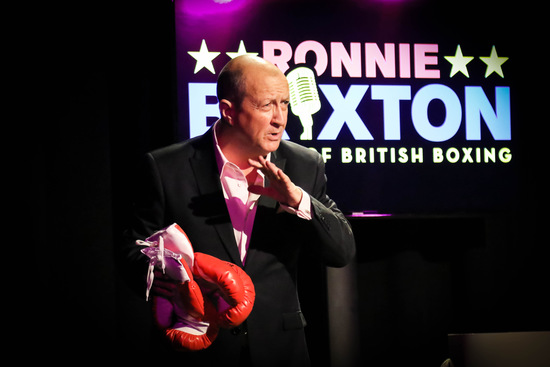 LAST CHANCE TO SEE RONNIE LIVE! RESERVE $10 TICKETS & REDEEM A COMPLIMENTARY T-SHIRT or TANK TOP AFTER THE SHOW! __"David.Shaughnessy is amazing! He brought us to tears with a sense of hope."-Debbie Hall, BROADWAYWORLD __100% SWEET ON BETTER-LEMONS!
SIGN UP FOR THE FRINGE NEWSLETTER
BEHIND THE SCENES
Copyright © 2018 Hollywood Fringe Festival
All Rights Reserved.