Tweet
http://hff18.org/5366
(hit ctrl+c to copy)
Meanwhile, Back at the Super Lair
ensemble theatre
· the new american theatre · Ages 13+ · 90 mins · United States of America
Buy Tickets
Add to Favorites
RUSSELL EATON
http://www.myhauntlife.com/
· June 15, 2018
A broad comedy that milks the ridiculous concept for big laughs, this show manages to make some sharp observations about romance and commitment. Four super-heroes share an apartment in a city where there is no crime. How do you fill the days? Taking cues from sketch comedy, farce and a bit of Abbott and Costello style verbal antics, the emphasis is on jokes and goofiness. ...
full review
SOO CHYUN
certified reviewer
· June 11, 2018
Modern media is somewhat oversaturated with superhero movies so having to see a premise like this was really interesting. It reminded me my favorite animated movie 'Incredibles' as the "superheroes" in this play hold mundane, familial problems and conversations such as fighting over tv remote, who peed on the toilet seat etc. This made the characters feel very relatable despite their unique backgrounds....
full review
DENISE K ROSE
certified reviewer
· June 08, 2018
The show was hilarious! First of all, I love all things superhero. But this was a twist on the genre. It's a comedy with really good one-liners. Think Anchor Man meets 40-Year Old Virgin meets Deadpool meets the original Bat Man series. Plus it touched on social issues. Loved it. I'm glad I saw it. Character names were Rhino Man, Silver Streak, The Human Fly, Leopard Woman. and Octo Boy. I would be remiss if I didn't mention "Eddie One Arm." That's all I will say about him or else I'll spoil it for you. I recommend this show. It's under 90 minutes too. ...
full review
KAT MICHELS
see it or skip it la
· June 08, 2018
#SkipItLA Meanwhile Back at the Super Lair has some good one-liners and some witty banter, but as whole it doesn't have feet to stand on. This play relies on dated stereotypes - there are so many thrown into this show that some characters had to double-up - in lieu of actual character development. - Beleaguered and harangued shrink? Check! - Ironically named incompetent bad guys? Check! - Hard-nosed government employee who is won over by the plucky leads? Check! - Well-off racist white characters who are unaware they are racist and incapable of learning any better? Check! - Token black guy to point out the racism so its "socially acceptable" to laugh? Check! - Angry white guy who turns violent when he loses the girl? Che...
full review
TRACEY PALEO, GIA ON THE MOVE
gia on the move
· June 15, 2018
Recommended. Easily, one of the best scripted comedies at the 2018 Hollywood Fringe. No shtick spared in the fight against a lack of evil....
full review
MONIQUE LEBLEU
thelosangelesbeat.com
· June 15, 2018
With the glut of super-serious, superhero films coming out of Marvel and DC Comics these days, it's shows like "Meanwhile, Back at the Super Lair...," writtten by Greg Kalleres, that seek to blast through the BS, keep things in check, and speak up with regard to the overlooked, the privileged, the undersaid, and the underpaid....
full review
MAYA PAZ
certified reviewer
· June 11, 2018
After a long week, I was in the mood for a comedy. I chose this one because I saw the promotional videos online. I went with a friend who knows the company (New American Theatre). First of all, I found a place to park right out front. Good thing, because I hate looking for parking. The theatre is very clean and the lady who checked me in was friendly. All good. Now for the show: It was really funny! The actors were good across the board. The biggest laughs were for the guy who plays Silver Streak, but I think I laughed the whole way through. I was also moved at one point when the character named Darrell (the only African-American in the show....this is on purpose for a reason) gave a great speech on what it's like to be a person of color i...
full review
ANONYMOUS
certified reviewer
· June 17, 2018
The show was super fun! Laughed a lot! Great cast!...
full review
SHARI BARRETT
broadway world
· June 18, 2018
This show was basically a visit to the land of Bizarro with "Super Heroes" trying to find something to do in a town with no crime. The story seemed silly and pointless, with most of the characters wearing latex body suits with accessories to reflect their names: Rhino Man, Leopard Woman, The Human Fly and Silver Streak. On Friday, June 15, the cast included Ronald Auguste, Brendan Brandt, Robert Cicchini,Christopher Frontiereo, Jeff Kongs, Jade Sealey. Perhaps if you enjoy comic books, this would be a show for you. ...
full review
MIKE RIZZO
certified reviewer
· June 03, 2018
Funny and surprisingly thought provoking Good all around...
full review
|
ADVERTISEMENTS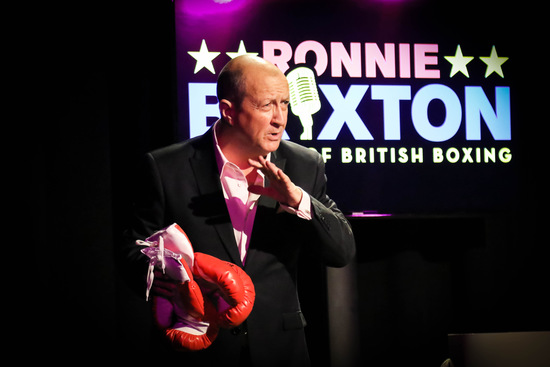 LAST CHANCE TO SEE RONNIE LIVE! RESERVE $10 TICKETS & REDEEM A COMPLIMENTARY T-SHIRT or TANK TOP AFTER THE SHOW! __"David.Shaughnessy is amazing! He brought us to tears with a sense of hope."-Debbie Hall, BROADWAYWORLD __100% SWEET ON BETTER-LEMONS!
a single father, his 2 teenage kids, a mob boss, a murder trial and a pot selling nun in a Hollywood commune. you're going to laugh, cry and even remember the next day. get your tickets now before it's too late.
SIGN UP FOR THE FRINGE NEWSLETTER
BEHIND THE SCENES
Copyright © 2018 Hollywood Fringe Festival
All Rights Reserved.